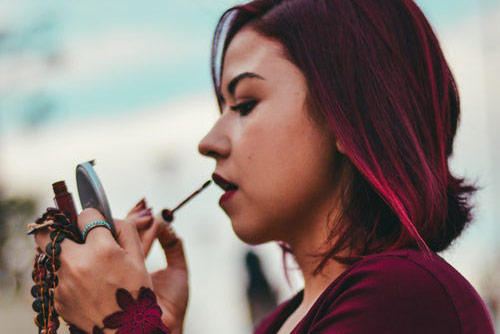 You face is like a canvas that can be beautifully transformed with makeup and cosmetic products. Lilybell India brings to you the most sought-after makeup techniques that can completely transform the way you look.
Experience beauty in all its glory with these 8 simple yet ecstatic makeup techniques:
1) Prettify your lips
Lips are the most beautiful part of your face. If you want to make your lips look excellent try using a lip color that looks natural and matches your actual lip color. Apply gloss over it to provide radiance. Garnish your lips with splashing lip colors only occasionally.
2) Give depth effect with dark eyeshadow
Apply dark eyeshadow towards the outer edge of your eyes to give the depth effect. It makes your eyes pop and look bigger. You can use a combination of brushes and pencils to create the desired depth. To apply the base layer of eyeshadow you can use softy puff.
3) Relax on the eyebrows
Some people remove all their eyebrows only to pencil or tattoo them in later. Natural eyebrows look great and won't excessively irritate your skin like plucking and drawing eyebrows. They add to the beauty of your face, experiment with different eyebrow techniques to amplify your eye makeup and look more natural.
4) Remove mascara clumps
To evenly spread mascara across all eyelashes use the eyebrow brush and remove all lumps. It makes your eyelashes appear clean and rich.
5) Highlight the cupid bow of lips
Make your lips appear thicker by highlighting the cupid bow or upper point of the upper lip and the focal point or center of your lower lip. Your lips will bulge and gain volume with this.
6) Use sunscreen
It is not makeup, but prolonged sun exposure is the fastest way to damage your skin. Use sunscreen or a cosmetic with SPF built in.
7) Apply blush as the shape of 3
While applying bronzer or blush, make the shape of numeral 3 with the brush on the face sides. The beginning point is your temple, the midpoint is your cheekbone and the ending point is your jawline. This creates a finely contoured look.
8) Get smoky eyes
This is a basic eye makeup technique that can instantly give your eyes a bold look. Apply a pencil and smudge it with your finger and you are ready with your smoky eyes.
We hope that you enjoyed reading this article. Stay tuned for more on makeup and beauty from Lilybell.
April 16, 2018
Categories: